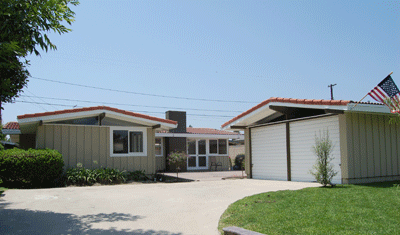 Floorplans of Lakewood Rancho Estates can be hard to find
As you look throughout Long Beach, if you run into new developments you often encounter different floor plans. Much of the Long Beach real estate that you encounter now is over 50 years old, so it can be difficult to determine what a particular floor plan used to be. One of the unique aspects about looking for a Cliff May home is that much of the originality has been maintained over the years. And despite the homes being well over 50 years old you will quickly find that their layouts are great for modern living.
The masterminds behind the Lakewood Rancho Estates were Chris Coate and Cliff May. As the architect and designer they put together floor plans that were truly ahead of their time, ones that embraced indoor/outdoor living and were still functional.
They called these homes the Californian and it came in 6 different floor plans.
4 Bedroom – The 4 bedroom model was the largest that was built and it was built as 1,341 sq ft. This was known as Plan 4A. The elevation of the home had easy garage access for 2 cars. The 4 bedroom model came with 2 bathrooms and had a fireplace.
3 Bedroom – The 3 bedroom plans are the most prevalent. They were identified simply as Plan A, Plan C, Plan D, Plan E, and Plan G. The 3 bedroom floor plan still came with 2 bathooms, but there were differences in elevations and layouts that were available. The 3 bedrooms were built as 1,108 sq ft.
With large master bedrooms that opened to the back yard these homes were popular in the late 1950's and are still popular now. These homes were built with copper plumbing which has a much longer lifespan than galvanized piping making it really attractive to today's buyer.
As you walk through a Cliff May home you will find that the floor plan flows very easily and that no matter what room you stop to view, you embrace natural light. These mid-century modern homes were built to embrace their environment and still provide an easy living space for their owners.
Find the right Cliff May home in Long Beach by using our Hot List or call us today at 562-989-7111 and allow one of our professional Long Beach Realtors to help you achieve your goal.