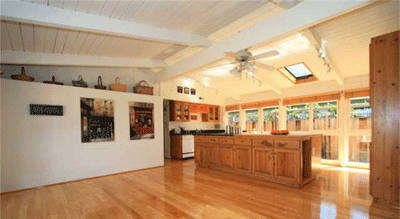 Cliff May Homes were designed to stand the test of time.
The Californian that was built in the Rancho section of Long Beach was not only built with the thought of embracing the weather, it was also constructed with different materials from the traditional homes that were being built at that time.  This modern interpretation of the Ranch style home made huge strides in materials and floor plans.  Even with can't miss aspects of exposed-beam ceilings and large windows they still took the time and care to put in some smaller details.
Durability
The homes were designed to stand the test of time.  This can be seen from some of the core systems, like plumbing, which was installed using copper.  Most homes were still being built with galvanized steel during the 1950's so Cliff May and Chris Choate were definitely thinking ahead by putting in copper.
Birch Wood
The kitchens are inviting and provide ample space.  They were constructed with Birch cabinets which were normally reserved for much more expensive properties.  The birch was not just reserved for the kitchen cabinets as it was also used for paneling in the living room.  These doors are often difficult to find if you need to replace them so if you find a Cliff May where they are all intact, you are in great shape!
Exteriors
A rich and attractive exterior doesn't happen by mistake.  The exterior panels were made of redwood.  Just like modern homes, they were also aware that we do get some rain, but to keep the clean lines they concealed the gutters on the home and the garage.
Bringing it all Together
Understanding what the Cliff May's are composed of can give you a head start if you run into that home that needs some additional love.  Find out what Cliff May homes are available today by searching the Long Beach MLS and see if there is a project home, or maybe one that has been meticulously cared for over the years and is just looking for a new owner.