Looking for Long Beach California Real Estate with park-like settings? If so, then the El Dorado Park area of Long Beach is the place to look. The area has many great amenities to offer, from excellent schools to lush parks. This area is home to El Dorado Park – a large park where many families can be found enjoying BBQs on Saturdays and Sundays. If you like to golf, the El Dorado Park golf course is a public course. It offers challenging play and is popular with the local community.
The Long Beach Parks department has long been recognized as one of the top Parks programs in the country. El Dorado Park is one of the best parks in Long Beach allowing for people to enjoy an Archery range, BBQ grills, bicycle trails (over 4 miles), model aircraft flying area, model sailboat area, Physical fitness course (12 stations), a nature center and much more. With the great amenities of the park and prime Long Beach real estate, it's no wonder peole choose to find a great home nearby.
If you like to golf, the El Dorado Park golf course is a public course.
Similar to the Ranchos section of Long Beach, there are many Ranch style homes here as well as traditional family homes. The lots are usually close to 5,000 sq ft, but you can find even larger lots in the area. You will find the sq footage of the homes comfortable, as many range in size from 1,300 sq ft to over 2,000 sq ft. As the homes here were built in the 1950s, many have great wood floors and attached garages – yes, even 2 car garages!
Just north of El Dorado Park you will discover an area that is home to Cliff May homes. Cliff May homes in Long Beach were built in 1953 and 1954 and continue to remain popular. While different than the homes you will find in El Dorado Park Estates you will want to evalute this section of fewer than 700 homes to see if these homes are a match for your goals.
El Dorado Park Estates, an area located in El Dorado Park, boasts homes that reach from 2,000 sq ft to close to 3,000 sq ft. Even though the homes are older, they are usually well maintained and you might even find some with sparkling pools. There are many tree-lined streets where large pines line the sidewalks. The streets are quiet and allow children to play during the day. This area of Long Beach covers primarily the zip code of 90808.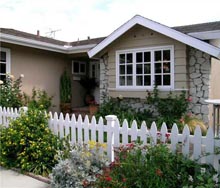 At any point during the year there are great El Dorado Park homes available, just like the ones featured here! Feel free to contact me anytime at (562) 989-7111 and I will be happy to send you my "HOT LIST" of the best picks in El Dorado Park ! You may also use our FREE Long Beach MLS to see some of what is available right now!