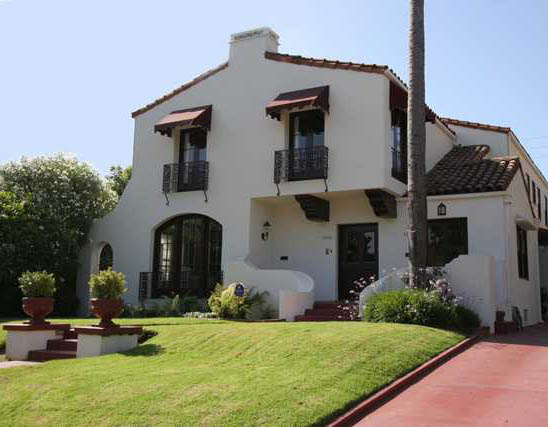 If you aren't in nearby Naples or Belmont Shore, then your search for large homes that are close to the ocean will be focused on the Bluff Park area.  The Long Beach real estate in this area does not turn over very often so you will want to keep a close eye on what becomes available.  You will find a rich variety of architecture for such a small area.  With just a quick drive down the streets you will discover large Craftsman homes, Spanish Style, and Mediterranean revival homes. The distinct architecture of these properties is often complimented with a nice set back allowing homeowners to have long driveways and great front yards.
This was the second area within Long Beach to be designated historic.
This was the second area within Long Beach to be designated historic. Most of the homes were built between 1903 and 1949. There is a large high rise in the area, the Galaxy Towers, but predominantly this is a community of homes. The homes stretch in square footage from around 2,000 sq ft to homes that are well over 3,000 and 4,000 sq ft. With land at a premium close to the ocean, you would think the lots would be small, but you will find homes that have lots from 5,000 sq ft to 11,000 sq ft. This is an estate neighborhood so expect the prices to be on the upper end, but you will have a wonderful neighborhood that you can enjoy for years to come.
This niche area of Long Beach real estate is defined with the following boundaries:
North of Ocean Blvd
South of 2nd St
East of Junipero Ave
West of Loma Ave
You can find the current Bluff Park homes that are available using our free Long Beach MLS or requesting the Hot List for this area.  Our team of dedicated professionals is happy to take the time to learn more about your goals whether you need to sell a home in Bluff Park or find the next great property for you.  Call us today at 562-989-7111 so we can help you to find the Long Beach real estate that meets your needs and exceeds your expectations.